Bronzer: a cosmetic item used to give skin a sun kissed glow. Or if you're extremely fair skinned, a cosmetic item to avoid like the plague.
At least, that used to be my feeling toward any powder/liquid/cream toting to give you the appearance of tanned skin. My face has never tanned in the sun and never will, so I've spent many mornings slapping on an SPF, foundation, blush, and calling it a day. And honestly it wasn't until pictures of Kim Kardashian's makeup regime was blasted on the internet that I gave defining my face a thought.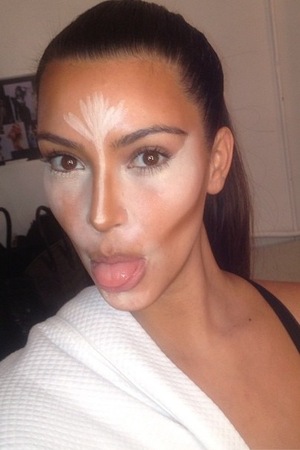 Photo source: reveal.co.uk
I didn't quite attempt this in my top photo (do I dare!?) but I have been defining my cheekbones lately and really like the results. Bronzers can be misleading can't they? I'm not trying to "look tan" or get a "sun-kissed glow" but, oh, I can use bronzer to define my face and look slimmer? That I can get on board with, because I'm honestly never going to look like I just got back from Hawaii.
So I implore any fair skinned ladies who have never tried bronzer to broaden your makeup horizons. I am currently using
Physicians Formula Season-to-Season Bronzer
in light-medium. It's more expensive than your typical drug store product but I like that it includes four different shades so you can always get your desired color.
Whatever you choose, good luck!
Michelle